Shopping Cart
Your Cart is Empty
There was an error with PayPal
Click here to try again
Thank you for your business!
You should be receiving an order confirmation from Paypal shortly.
Exit Shopping Cart
NY House Painters, Pressure Washing, Deck Restoration & Staining
Kellogg's Painting Inc. 518.965.0720
Quality Painting Since 2007
Call Now For Your Free In Home Consulation
Kellogg's Painting Blog - Leeds, NY 12451 Painters

This Coxsackie , NY home on the Hudson River was built about 1840. The Kellogg's Painting painters applied over 60 gallons of paint to this Coxsackie homes exterior. Everything on the exterior of this home was painted, except for the shutters. If you have a home or business in Coxsackie, NY and are looking for painters call Kellogg's Painting for your free in home painting consultation. 518.965.0720   
www.kelloggspainting.com 
If you have a home in the Catskills or Hudson Valley upstate NY areas you may have a front door painted red. I was curious, as to the meaning of a homes front door painted red, as Kellogg's Painting does paint a lot of doors red in the Catskills and Hudson Valley New York areas. 
Going back in time a homes front door painted the color red meant welcome. Tired travelers using horse and buggy would know that they could stop in your home and rest, as they would be welcomed.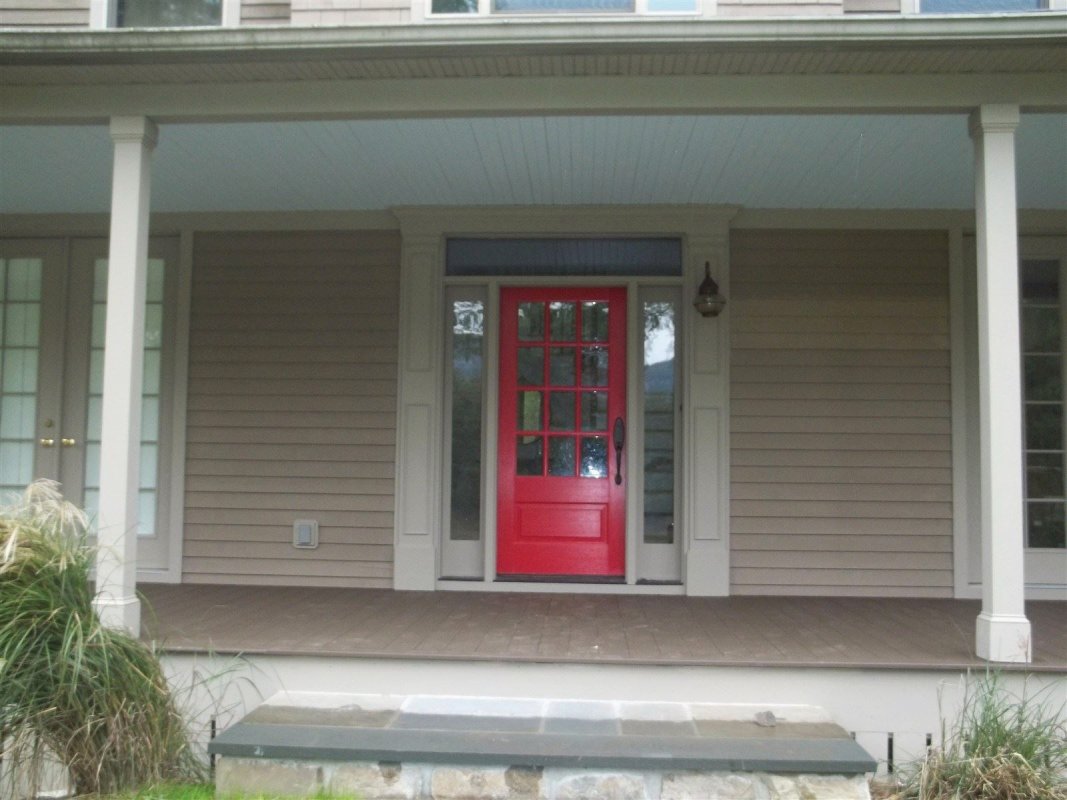 This Hudson Valley homes front door was painted red by the painters at Kellogg's Painting in Leeds, NY. 
If you want welcoming energy then painting your Hudson Valley or Catskills homes front door red is for you. In Feng Shui your homes front door is known as the "Mouth of Chi", which energy enters. If you believe in Feng Shui then painting your door red welcomes positive energy into your home. 
Churches painted the doors red to represent the blood of Christ.Once you walked in the church through the red doors that would signify you where on holy ground. Some people believe that a red front door will protect its homes occupants from evil. 
When a home owner paid off their mortgage in Scotland they would paint the front door red. This would signify that they now own the home debt free. 
These may not be all of the reasons for a red front door, but through research they seem to be the most common meanings of a front door painted red. 
Catskill NY painting company. Kellogg's Painting of Leeds, NY 12451 is the preferred choice when looking for Catskill NY 12414 painters. Our professional painters apply
interior
 - 
exterior
paint finishes. We are not only a house painting contractor, but our technicians also perform low pressure
house washing services
and apply a wax after your home is cleaned. Kellogg's Painting is a certified house and
deck stain applicator
and can revive and protect your deck and house with our staining services in the Catskills and Hudson Valley NY.
Coxsackie NY 12051
Painting contractor. Kellogg's Painting painters of Leeds, NY 12451 provides
painting services
in the West Coxsackie, Coxsackie, Catskills and Hudson Valley NY areas. 
Do you have a drab fiberglass door? Kellogg's Painting can transform your fiberglass door to look like a wood door. Watch the video of a Coxsackie NY 12451 fiberglass door being transformed by Kellogg's Painting painters of Leeds NY 12451 Greene County. 
/