Shopping Cart
Your Cart is Empty
There was an error with PayPal
Click here to try again
Thank you for your business!
You should be receiving an order confirmation from Paypal shortly.
Exit Shopping Cart
NY House Painters, Pressure Washing, Deck Restoration & Staining
Kellogg's Painting Inc. 518.965.0720
Quality Painting Since 2007
Call Now For Your Free In Home Consulation
Kellogg's Painting Blog - Leeds, NY 12451 Painters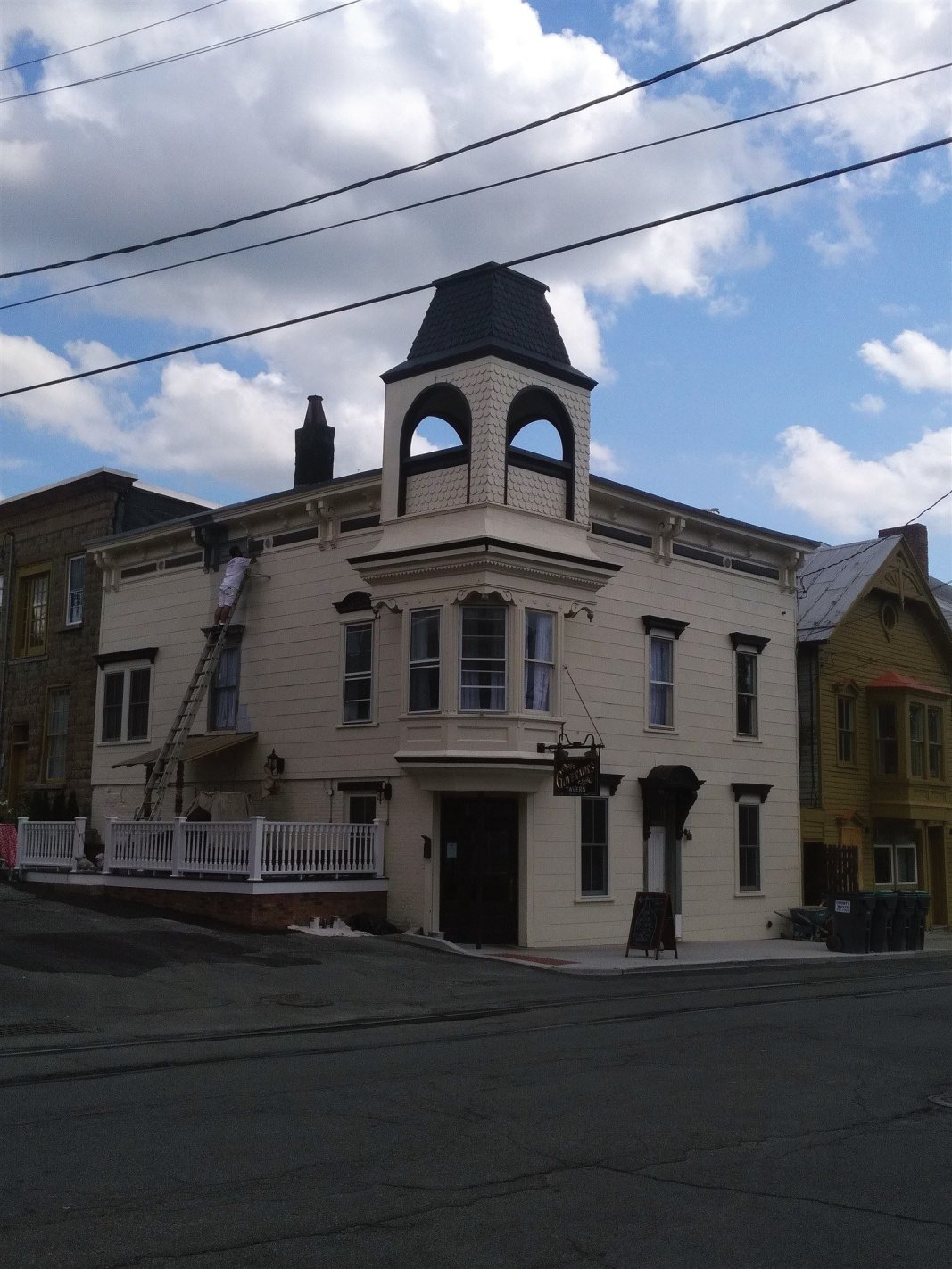 This iconic Hudson, NY building formerly known as The Iron Horse Bar is now under new ownership and has a new name. The building dates back to the early 1800's. Hollywood has used this location in a couple of movies over the years. 
The Kellogg's Painting painters painted the exterior of this Hudson, NY building. You can see a painter putting the final details on the building in the picture. Sherwin Williams exterior Superpaint satin sheen was used to paint the exterior. 
When your looking for Hudson painters to paint the exterior of your Hudson, NY home or business call Kellogg's Painting 518.965.0720   
www.kelloggspainting.com
"Hiring Kellogg's Painting to refresh the exterior of our home was a very smart thing to do. From our first meeting to job completion, Thomas and his crew were simply impeccable. When we met for an estimate, I was quite impressed with Kellogg's comprehensive, professional presentation. Who knew that my experience would continue to get better?! Weather allowed them to start the job two and a half weeks earlier than originally scheduled. Then to my surprise, they finished in two days! They are well-staffed, timely, organized, they did a superlative job of painting, and they left the place spotless. Moreover, I was delighted with the friendly professionalism of each member of the Kellogg's team. Need painters? Call Kellogg's. You'll be surprised at how exceptional a contracting experience can be." Teresa - Hudson NY Exterior House Painting Project
Looking for an exterior painting contractor in Hudson NY? When the exterior of your Hudson home needs to be painted call Kellogg's Painting Company 518.965.0720. The professional painters at Kellogg's Painting have been painting the exteriors of homes in the city of Hudson since 2007. Kellogg's Painting Company is an experienced painting contractor with a team of professional painters that have the knowledge and skills to protect and beautify your most valuable investment in Hudson New York. 
If you have a home in the Catskills or Hudson Valley upstate NY areas you may have a front door painted red. I was curious, as to the meaning of a homes front door painted red, as Kellogg's Painting does paint a lot of doors red in the Catskills and Hudson Valley New York areas. 
Going back in time a homes front door painted the color red meant welcome. Tired travelers using horse and buggy would know that they could stop in your home and rest, as they would be welcomed.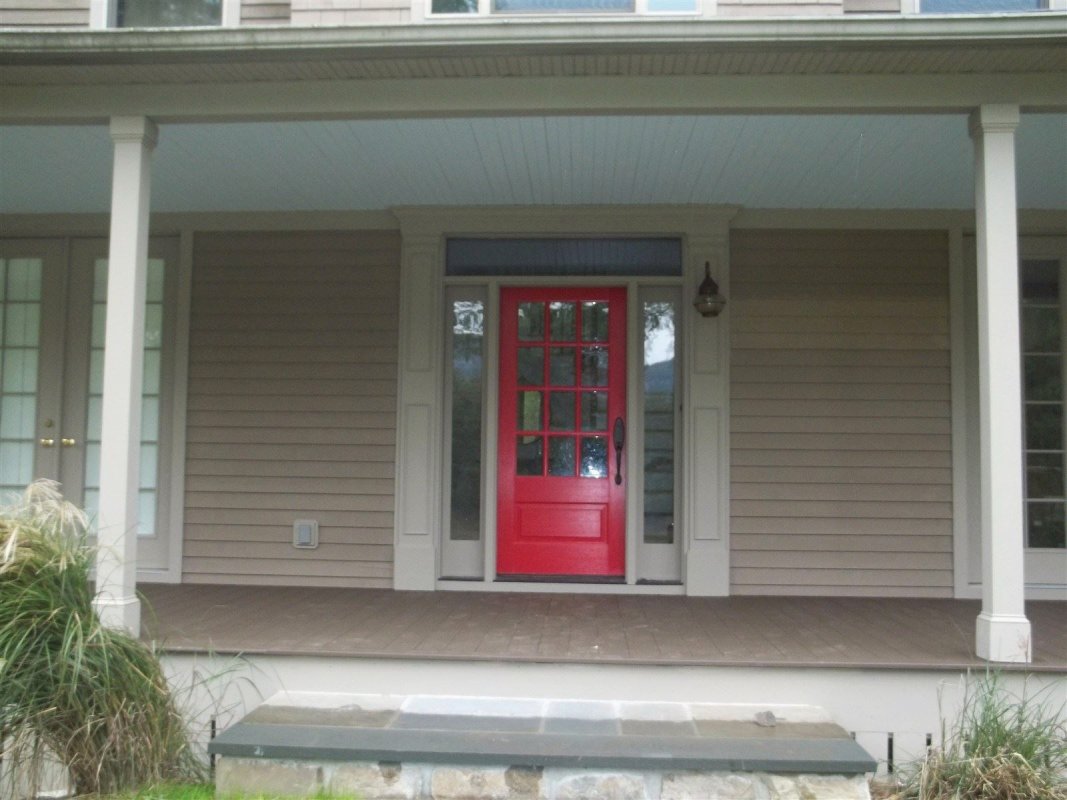 This Hudson Valley homes front door was painted red by the painters at Kellogg's Painting in Leeds, NY. 
If you want welcoming energy then painting your Hudson Valley or Catskills homes front door red is for you. In Feng Shui your homes front door is known as the "Mouth of Chi", which energy enters. If you believe in Feng Shui then painting your door red welcomes positive energy into your home. 
Churches painted the doors red to represent the blood of Christ.Once you walked in the church through the red doors that would signify you where on holy ground. Some people believe that a red front door will protect its homes occupants from evil. 
When a home owner paid off their mortgage in Scotland they would paint the front door red. This would signify that they now own the home debt free. 
These may not be all of the reasons for a red front door, but through research they seem to be the most common meanings of a front door painted red.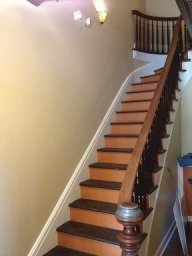 The house painters at Kellogg's Painting Company did a great job painting this Hudson, NY stair case and stair well. 
Kellogg's Painting was the painting contractor contracted to paint the interior of this remolded Hudson building. The stairs are original to the building. Our team of painters painted the stair stringers, stair risers, walls and ceilings in this stair well. 
The building is three stories and this photo is on the first floor. 
If you are looking for an interior painting contractor in the Hudson, NY area call Kellogg's Painting today 518.965.0720. Visit our website to learn more about our painting services, painters and why we are the premier painting company in areas of the Hudson Valley and Catskills New York. 
Most recent exterior painting project in Hudson, NY. We did a complete exterior re-paint, including staining of the fence surrounding this mid 1800s Hudson home. Our painters paid attention to the detail, including the mint green doors on the front. 
Do you have vinyl siding that needs cleaning and gutters that need whitening? Kellogg's Painting provides
low pressure house washing
in Hudson. 
Whether your home is in the Catskills or Hudson Valley New York areas. Kellogg's Painting of Leeds, NY 12451 Greene County can restore and protect your most valuable investment, including
deck staining
and restoration services.  
/