Shopping Cart
Your Cart is Empty
There was an error with PayPal
Click here to try again
Thank you for your business!
You should be receiving an order confirmation from Paypal shortly.
Exit Shopping Cart
NY House Painters, Pressure Washing, Deck Restoration & Staining
Kellogg's Painting Inc. 518.965.0720
Quality Painting Since 2007
Call Now For Your Free In Home Consulation
Kellogg's Painting Blog - Leeds, NY 12451 Painters

The painters at Kellogg's Painting painted the exterior of this Catskill New York home. The siding has been painted, trim, window sashes, doors, porch ceiling, porch columns, porch floors and shutters. All of the windows have wood storms, which have been removed and painted by our painters too. The wood storms are not shown in the photos. 
This Catskill home was painted with Sherwin Williams exterior Superpaint satin sheen. Our painters applied an industrial grade floor paint to the porch floors.
The home was pressure washed using low pressure, loose flaking/peeling paint was removed, sanded as needed, caulked and primed as needed. After preparation 2 coats of the Sherwin Williams paint was applied. 
If you are looking for professional house painters in Catskill, NY to paint the exterior of your home call Kellogg's Painting. 518.965.0720
www.kelloggspainting.com
When your looking for a Catskill painting contractor for your interior house painting project think Kellogg's Painting Company. Kellogg's Painting is located in the town of Catskill NY and has been providing interior house painting services since 2007. 
Kellogg's Painting painters in Catskill are safety trained, knowledgeable and paint with pride. View a few samples of interior house painting by the Kellogg's Painting interior painters in Catskill, NY below. 
If you have a home in the Catskills or Hudson Valley upstate NY areas you may have a front door painted red. I was curious, as to the meaning of a homes front door painted red, as Kellogg's Painting does paint a lot of doors red in the Catskills and Hudson Valley New York areas. 
Going back in time a homes front door painted the color red meant welcome. Tired travelers using horse and buggy would know that they could stop in your home and rest, as they would be welcomed.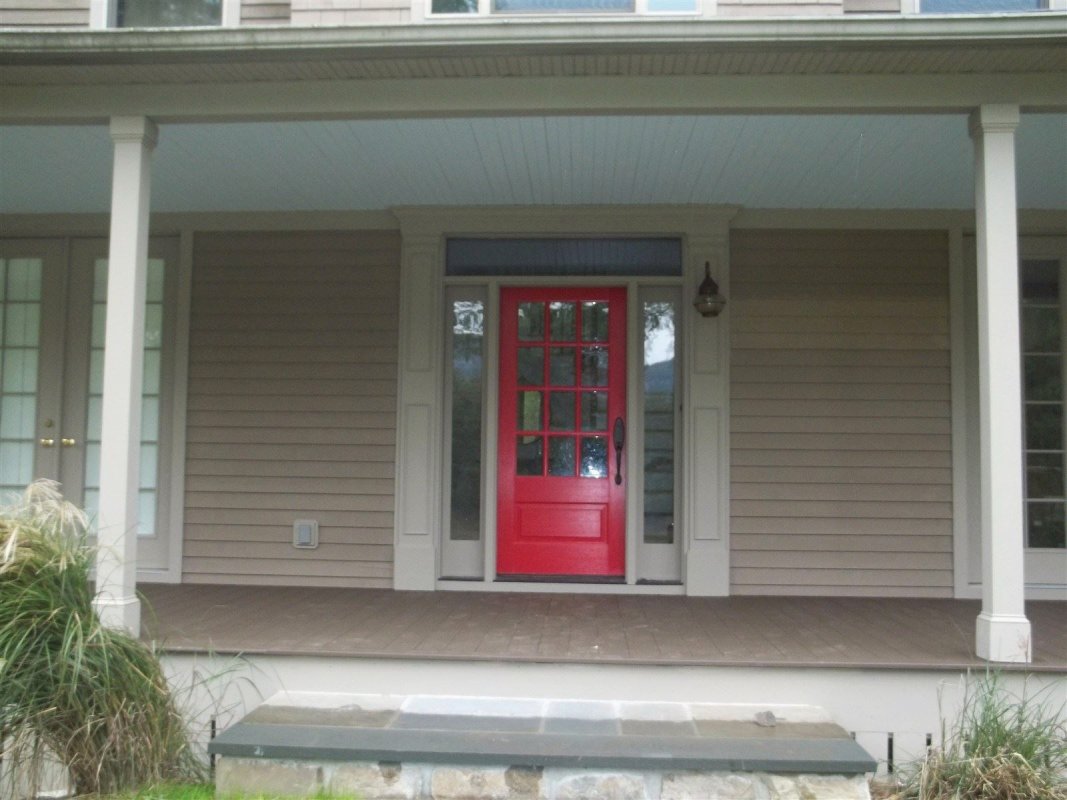 This Hudson Valley homes front door was painted red by the painters at Kellogg's Painting in Leeds, NY. 
If you want welcoming energy then painting your Hudson Valley or Catskills homes front door red is for you. In Feng Shui your homes front door is known as the "Mouth of Chi", which energy enters. If you believe in Feng Shui then painting your door red welcomes positive energy into your home. 
Churches painted the doors red to represent the blood of Christ.Once you walked in the church through the red doors that would signify you where on holy ground. Some people believe that a red front door will protect its homes occupants from evil. 
When a home owner paid off their mortgage in Scotland they would paint the front door red. This would signify that they now own the home debt free. 
These may not be all of the reasons for a red front door, but through research they seem to be the most common meanings of a front door painted red. 
Catskill NY painting company. Kellogg's Painting of Leeds, NY 12451 is the preferred choice when looking for Catskill NY 12414 painters. Our professional painters apply
interior
 - 
exterior
paint finishes. We are not only a house painting contractor, but our technicians also perform low pressure
house washing services
and apply a wax after your home is cleaned. Kellogg's Painting is a certified house and
deck stain applicator
and can revive and protect your deck and house with our staining services in the Catskills and Hudson Valley NY.
Windham NY 12496 deck and
house staining contractor
. Staining-sealing of
decks
, house siding and log cabins in Windham NY 12496, Catskills and Hudson Valley NY areas. 
Kellogg's Painting painters of Leeds NY 12451 is a certified staining contractor for your staining needs. Watch our staining process of this Windham NY 12496 log sided home. We are the wood care professionals!!! 
When hiring a painter for your Catskills or Hudson Valley NY home or business safety should come to mind. Ask the painting contractor about safety. Does the painting company have a safety program? Does the painting contractor perform safety meetings with there employees? Does the painter utilize a safety manual? 
Most construction work related injuries and deaths occur from falls. Falls from ladders and scaffolding. 
Kellogg's Painting Company of Leeds, NY 12451 employees are trained on how to safely use each piece of equipment that is used during the operations of painting the interior-exterior of your Catskills and Hudson Valley NY home. Our painting company has a safety program in place. We utilize a safety manual, weekly safety meetings, ladder safety classes, adhere to OSHA and asses any safety concerns of each painting project before starting the project.
View our ladder safety certifications and training.
Another safety concern that is sometimes overlooked is lead paint. Older homes in the Catskills and Hudson Valley NY areas have lead paint under numerous layers of latex paint. Lead paint is not only a concern for a painting contractors employees, but it is also a concern for the family whom resides in the home that is being painted. Any painting contractor that is going to be painting six square feet or more of painted surfaces in a room for interior projects, or more than twenty square feet of painted surfaces for exterior projects where lead paint is present must be a EPA Lead Certified Firm with EPA Lead Certified Renovators and follow lead safe working practices.
Read more about the Federal Lead Law and View Kellogg's Painting EPA Certified Firm and Certified Renovator Certificates.

Kellogg's Painting Company, Leeds NY 12451 is the first painting contractor to become a PDCA member in the Columbia and Greene County New York area. Our painters set the standard for house painting services in the Catskills, NY. 
What is the PDCA?
The Painting and Decorating Contractors of America (PDCA) is dedicated to the success of painting and decorating contractors, founded in 1884, serving the coatings and wall covering industry. PDCA is recognized and supported by many industry manufacturers and paint suppliers. The focus of the association is the education of its members and the promotion of professionalism within the painting industry. 
PDCA offers many programs for the education of painting contractors, including industry standards, safety, management, technical areas of painting, surface preparation and more. Quality painting and decorating contractors are well educated on the different aspects of any painting project and that knowledge helps eliminate surprises. Excellence in paint application is as important with your selection of a contractor as are the skills to properly manage their business and your project. with standards, education, training, safety, and best practices essential to success.
Why hire a PDCA member?
When hiring a PDCA member for your Catskills or Hudson Valley, NY house painting project you will have confidence that you hired a professional and quality painting contractor. Each member must follow a
Code of Ethics
 , must be licensed, registered and insured. PDCA painters are reputable contractors who are educated and understand the painting industry. Continued education includes: 
Safety
Paint and Paint Application
Surface Preparation
Insurance and licensing
Employees
Management 
Health concerns, including lead-based paint
keeping up to date with new technology, tools and products
Contracts 
When hiring a painting company in the Catskills and Hudson Valley, NY area that is a PDCA Member you will be hiring a painting contractor that believes in quality, exceptional customer service and a painting company that is committed to the painting industry.
When snow storms hit the Catskill, Cairo and Leeds New York areas you will need a professional snow removal and ice management company to maintain your parking areas and walkways. Keeping these areas free of snow and de-icing as needed provides safety and accessibility for you and your family. 
Professional snow plowing contractors will insure your needs are met, including maintaining your property during a storm so that it is accessible. Snow and ice management company's work in dangerous conditions,including driving and working in severe winter advisories, subfreezing temperatures, power outages, blowing/drifting snow, blizzard conditions and driver fatigue after being awake for numerous hours and operating in dangerous conditions. Many times contractors are called away from there family's on holidays too i.e. Thanksgiving, Christmas and New Years to service there clients property.
Professional snow & ice management contractors in Catskill, Leeds and the Cairo, NY areas will have a process in place for responding to snow and/or ice events, including having equipment ready, routes scheduled, and a plan to coordinate all equipment to necessary areas.
Consumer tips for hiring a Catskill, South Cairo, Cairo or Leeds, New York snow plowing, snow removal and ice management contractor for your home or business in 12451, 12414, 12413, 12482 and the surrounding area.
Does the service provider carry proper insurance? Including workers compensation, general liability, commercial auto and a snow plowing endorsement? Kellogg's Painting will gladly provide an insurance certificate from our agent at your request. If the contractor is not insured there bid should not be considered, as you should consider the cost to you if anything should happen on your property and your snow plowing company is uninsured.
 How long has the snow and ice management contractor been in business? Kellogg's Painting was established in January 2007. Look for a contractor that is knowledgeable and keeps current on changes in products, equipment and technology. You don't want to hire a fly by night person whom may not be in business the next week.
How will the contractor handle a high accumulation storm? Kellogg's Painting continues to plow out your driveway during a storm, so it can be accessed if you need to or have an emergency. We do not wait until snow has accumulated so much that your driveway is not accessible.
How will the contractor maintain your property if there equipment breaks down? Kellogg's Painting has more than one snow plowing truck and other equipment that is ready to go when needed. 
Get an estimate in writing? A professional contractor will visit the job site and note any obstacles that could be damaged, note there approach to your specific project, address your specific needs and any concerns you may have. The estimate should include exactly what will be done, exact prices and NY Sales Tax should also be included clearly defined on a separate line per law. If Sales Tax is not included then the contractor is probably working illegally. 
Does the contractor use contracts? A contract should be provided, so the plowing company and customer are on the same page. It should clearly define the level of service provided, exact cost, any options and payment terms. 
Professional snow and ice management providers may not be the lowest bidder, but remember that they are:
Paying insurance, payroll, payroll taxes, overhead and reinvesting into there business.
Committed to service and quality
Keeping equipment operable and purchasing the necessary products to maintain there accounts.
/