Shopping Cart
Your Cart is Empty
There was an error with PayPal
Click here to try again
Thank you for your business!
You should be receiving an order confirmation from Paypal shortly.
Exit Shopping Cart
NY House Painters, Pressure Washing, Deck Restoration & Staining
Kellogg's Painting Inc. 518.965.0720
Quality Painting Since 2007
Call Now For Your Free In Home Consulation
Kellogg's Painting Blog - Leeds, NY 12451 Painters

The painters at Kellogg's Painting of Catskill, NY painted the interior of this living room in Kinderhook near Hudson New York. The professional team of painters painted the walls, ceiling and trim. The ceiling is painted a grey color, instead of traditional white. The grey ceiling accents the off white color crown molding.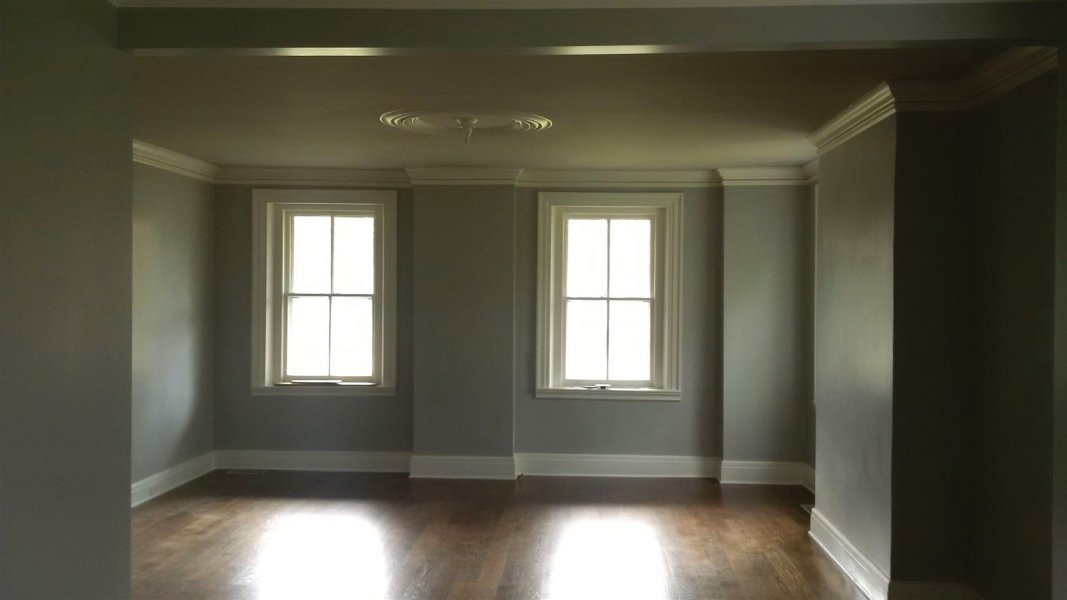 If you have a home in the Catskills or Hudson Valley upstate NY areas you may have a front door painted red. I was curious, as to the meaning of a homes front door painted red, as Kellogg's Painting does paint a lot of doors red in the Catskills and Hudson Valley New York areas. 
Going back in time a homes front door painted the color red meant welcome. Tired travelers using horse and buggy would know that they could stop in your home and rest, as they would be welcomed.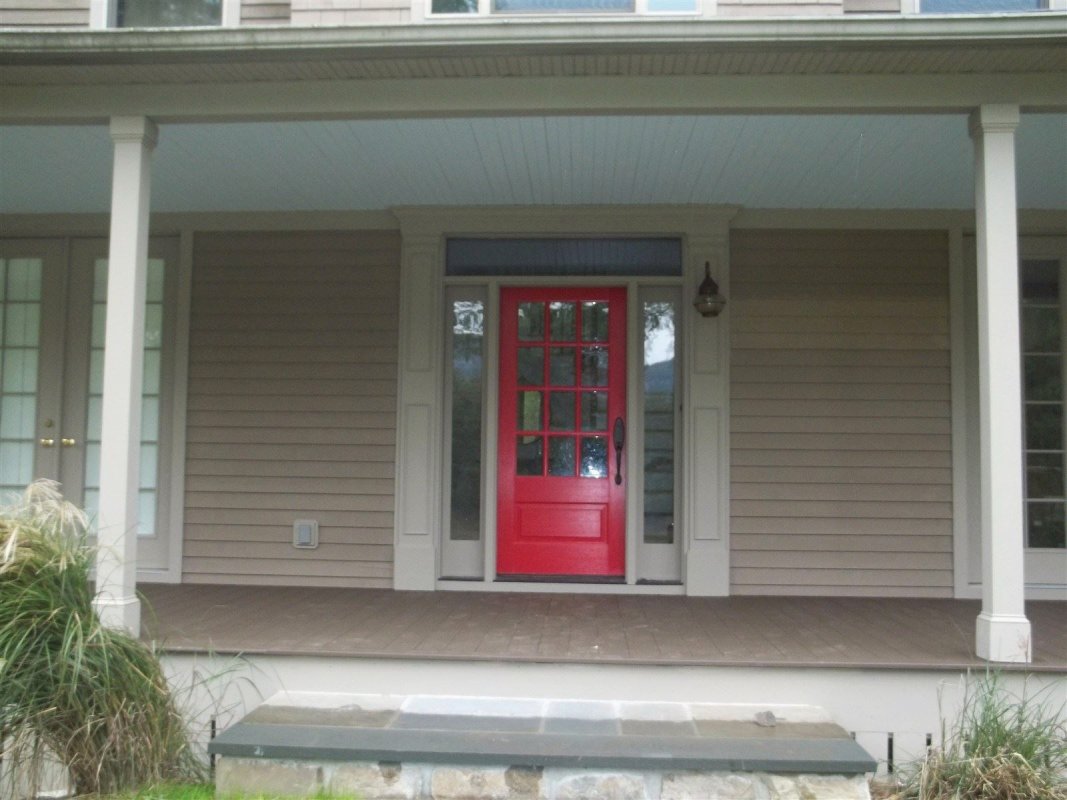 This Hudson Valley homes front door was painted red by the painters at Kellogg's Painting in Leeds, NY. 
If you want welcoming energy then painting your Hudson Valley or Catskills homes front door red is for you. In Feng Shui your homes front door is known as the "Mouth of Chi", which energy enters. If you believe in Feng Shui then painting your door red welcomes positive energy into your home. 
Churches painted the doors red to represent the blood of Christ.Once you walked in the church through the red doors that would signify you where on holy ground. Some people believe that a red front door will protect its homes occupants from evil. 
When a home owner paid off their mortgage in Scotland they would paint the front door red. This would signify that they now own the home debt free. 
These may not be all of the reasons for a red front door, but through research they seem to be the most common meanings of a front door painted red. 
Most recent exterior painting project in Hudson, NY. We did a complete exterior re-paint, including staining of the fence surrounding this mid 1800s Hudson home. Our painters paid attention to the detail, including the mint green doors on the front. 
Written by Adam Coholan, an active blogger, remodeling, renovation, and interior design based on his experience working with
luxury Fire Island real estate
around the New York area. You can follow him on Twitter @Coho22.
A remodel project or new furniture will certainly transform your space but can be very costly, but you can still transform your living space without spending a small fortune. The fastest and easiest way to freshen up a room and make it feel updated is to give it a fresh coat of paint. There's no need to buy expensive tools or invest a great deal of time into the project. With a little bit of planning and the help of a professional painter, you can turn any boring room in your home into something marvelous.

The first step is deciding how you want the room to feel. Some colors, like blues and greens, are more relaxing and will encourage people to sit down,relax and kick their feet up. Other colors, like vibrant yellows and bright shades will create an upbeat feel. There is no right or wrong decision. The only thing that matters is that you find a color that feels great and makes you want to spend time in the room.

When choosing the right color, keep in mind that it will look different in your room at home than it does on the paint chip in the store. Your home has different lighting, ant the surroundings and accents are also different. What looks like the perfect match under bright fluorescent lights could be garish in your softer lighting at home. Pick up a few bottles of sample paint and have them tinted to the colors you are considering. You can then paint an area on the wall at home. This way you can see how the paint will look in different lightings and decide whether it really is the perfect fit.

The final decision is to choose the type of paint you will use. This is based on more than simply personal preference. You should also take into account the room it's going in, how dirty it will get and how well it should handle being cleaned. As a general rule of thumb, you can simply remember that as paint takes on a more reflective surface it becomes more durable and better able to withstand the effects of moisture and cleaning.

Flat paint has no reflective quality and will provide a muted finish. It will also wipe off relatively easily when you try to clean it, so it's not a good choice for kitchens, bathrooms or high traffic areas. Gloss paint has a high shine to it and can be scrubbed thoroughly. This makes it the perfect choice for trim work, doors and other areas that will be prone to fingerprints or dust. When painting the bedrooms, living rooms and other areas, a good compromise would be satin or semi-gloss paint. They can both be scrubbed butaren't as shiny as a regular gloss paint.

There is no limit to the transformation you can create with a new coat of paint.You can easily change the look and feel of your space, create visual borders or add drama and dimension. Choose your paint color carefully and give some thought to the type of paint for a finished product that you will be thrilled with and proud of.
When choosing paint colors to paint your house or office it can be a daunting task. There are 3 general groups of paint schemes:
Monochromatic schemes are based on one hue, which varies in value (lightness and darkness), and saturation (the amount of color). An example of this is a pale blue with a pure blue and dark blue. 
Analogous schemes combine no more than three similar colors. An example of this is red, yellow red (orange), and yellow. 
Complementary schemes are based on opposing colors. This scheme offers more contrast and can introduce both warm and cool colors into the area. An example would be the burgundy complementing the three shades of green in your front door
Find an existing dominant color that you like or wish to keep, in the room or on the house. On an exterior, this could be the color of the brick or stone, pre-finished windows, or roof. For an interior, it could be the color of your sofa, flooring, art work, or window coverings.
Determine what kind of feeling you wish to have in the room or on the home. Warm colors such as red, orange, yellow, or beige, can create an invigorating mood or add cozy intimacy to large spaces. They can help to warm up a room that has northern or eastern exposure. Blues, greens, violets, or grays, the cool colors, give a serene feeling and can add spaciousness to small spaces. The balance between light colors and deep colors should be considered.
Look for interesting architectural details, that can be accented color.
Drive through various neighborhoods to see color in action. Make note of appealing color schemes.
Define the entry way and window trim
A charcoal gray shingle may have flecks of gray-green or gray-blue that can be incorporated into the color scheme.
Black lends itself to sophistication and excitement in any decor. use it on the trim in an entry way.
Make a small room look large with a medium shade on the ceiling.
Pastel shades are not just for walls and trim.
Neutral colors like grays, create a classic look with a modern feel.
Paint just one wall, accent it
/